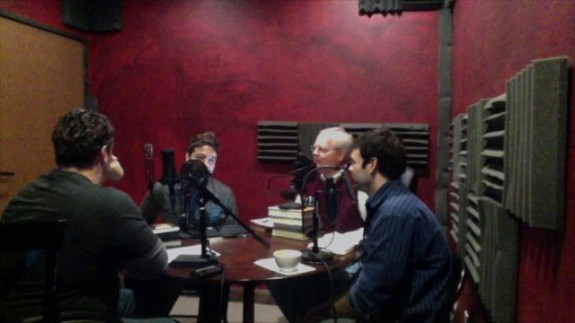 Theology Unplugged is one of the most popular and longest running theology podcasts on the internet (don't get too impressed, there are not that many theology podcasts!). Michael Patton, Sam Storm, Tim Kimberley and J. J. Seid tackle some of the most difficult and most relevant issues in the church today. The uniqueness of this podcast is that it is unscripted and unplugged. Often, the speakers don't know exactly what they will be talking about until the day of the podcast! We hope you enjoy.
Subscribe to Theology Unplugged on iTunes and get new episodes delivered to you automatically, or just get the RSS feed.
Episode List
2015
Human Sexuality
Called into Ministry? Five Questions to Ask Yourself
Is Seminary Necessary for Ministers
Sanctification and Holiness (Part 2)
Sanctification and Holiness (Part 1)
Jesus – The Biggest Problem in the Church Today (Part 4)
Materialism – The Biggest Problem in the Church Today (Part 3)
Authority of Scripture – The Biggest Problem in the Church Today (Part 2)
Legalism – The Biggest Problem in the Church Today (Part 1)
Who Can Be Saved?
Can We Be Too Dogmatic?
Obeying and Disobeying Elders
The Canon
The Trinity
Wine
Genesis Chapter 1
Does God Know the Future
Lying
The Tithe
The Doctrine of Hell
Is the Cross Cosmic Child Abuse
Is God a Moral Monster
Does God Choose People to Go to Hell
2014
What Did Jesus Mean When He Said Eat My Flesh
Faith or Works How are We Justified
What Happens to Our Soul When We Die
Did Jesus Know the Time of His Return
Can a Christian Resist Governmental Authority
Can a Christian Sin
Does Baptism Save You
Can God Change
What Exactly Happened to Ananias and Sapphira
What is the Role of Women
Eternal Security
Who or What are the Nephilim
What is Blasphemy Against the Holy Spirit
Church – Part 6 – Mega Churches
Church – Part 5 – Ordination
Church – Part 4 – How Should a Church Be Governed?
2013
Special Podcast: An Interview with Derek Webb
Church – Part 3 – What Makes a Local Church
Church – Part 2 – Local vs. Universal
Church – Part 1 – Defining the Church
Roman Catholicism – Part 16 – Wrap-Up
Roman Catholicism – Part 15 – Images, Icons and Relics
Roman Catholicism – Part 14 – Sacraments
Roman Catholicism – Part 13 – Indulgences
Roman Catholicism – Part 12 – Mariology Part 2
Roman Catholicism – Part 1q – Mariology Part 1
Roman Catholicism – Part 10 – The Apocrypha
Roman Catholicism – Part 9 – The Mass (Part 3)
Roman Catholicism – Part 8 – The Mass (Part 2)
Special Podcast with Drs. Justo and Catherine Gonzalez – Part 2
Special Podcast with Drs. Justo and Catherine Gonzalez – Part 1
Roman Catholicism – Part 7 – The Mass (Part 1)
Roman Catholicism – Part 6 – Purgatory
2012
Roman Catholicism – Part 5 – Justification (Part 2)
Roman Catholicism – Part 4 – Justification (Part 1)
Roman Catholicism – Part 3 – Authority
Reflecting on the Presidential Election
Roman Catholicism – Part 2 – Introduction
Roman Catholicism – Part 1 – Introduction
Coffee with Scholars – Paul Copan (Part 2)
Coffee with Scholars – Paul Copan (Part 1)
When The Ways of God Embarrass Us
Coffee with Scholars – Greg Koukl (Part 2)
Coffee with Scholars – Greg Koukl (Part 1)
Problem Passages (Part 16)
Problem Passages (Part 15)
Problem Passages (Part 14)
Problem Passages (Part 13)
Problem Passages (Part 12)
Problem Passages (Part 11)
Problem Passages (Part 10)
Problem Passages (Part 9)
Problem Passages (Part 8)
Coffee with Scholars – JP Moreland
Problem Passages (Part 7)
How to Talk About God and Not Lose Your Influence
Problem Passages (Part 6)
Problem Passages (Part 5)
Problem Passages (Part 4)
Problem Passages (Part 3)
Problem Passages (Part 2)
Problem Passages (Part 1) – What is Blasphemy of the Holy Spirit
Theology Unplugged – Coffee with Scholars – Dan Wallace

(UNAVAILABLE)

Theology Unplugged – Special Session Does God Change
Coffee with Scholars featuring Mike Licona (Part 2)
2011
Coffee with Scholars featuring Mike Licona (Part 1)
Why I Am – Am Not a Charismatic (Part 17)
Why I Am – Am Not a Charismatic (Part 16)
Why I Am – Am Not a Charismatic (Part 15)
Why I Am – Am Not a Charismatic (Part 14)
Why I Am – Am Not a Charismatic (Part 13)
Why I Am – Am Not a Charismatic (Part 12)
Why I Am – Am Not a Charismatic (Part 11)
Why I Am – Am Not a Charismatic (Part 10)
Why I Am – Am Not a Charismatic (Part 9)
Why I Am – Am Not a Charismatic (Part 8)
Special Broadcast – What is Credo House
Why I Am – Am Not a Charismatic (Part 7)
Why I Am – Am Not a Charismatic (Part 6)
Why I Am – Am Not a Charismatic (Part 5)
Why I Am – Am Not a Charismatic (Part 4)
Why I Am – Am Not a Charismatic (Part 3)
Why I Am – Am Not a Charismatic (Part 2)
Why I Am – Am Not a Charismatic (Part 1)
Reasons not to be a Christian: Series Wrap Up
Reasons not to be a Christian: So I Do Not Go to Hell
Reasons not to be a Christian: God will keep me from Suffering
Reasons not to be a Christian: I Want to be Happy
Addicted to Experience (Part 2)
Addicted to Experience (Part 1)
Invitation to Calvinism (Part 15)
Invitation to Calvinism (Part 14)
Invitation to Calvinism (Part 13)
Invitation to Calvinism (Part 12)
Invitation to Calvinism (Part 11)
Invitation to Calvinism (Part 10)
Hell Part 2
Hell Part 1
Invitation to Calvinism (Part 9)
Invitation to Calvinism (Part 8)
Invitation to Calvinism (Part 7)
Invitation to Calvinism (Part 6)
Invitation to Calvinism (Part 5)
Invitation to Calvinism (Part 4)
10 Books Every Christian Should Have
Invitation to Calvinism (Part 3)
Invitation to Calvinism (Part 2)
Invitation to Calvinism (Part 1)
Is God a Moral Monster with Paul Copan
2010
Closet Doctrines (Part 2) with Sam Storms
Sam Storms on Jonathan Edwards
Coffee with Dinesh D'Souza
Certainty
Closet Doctrines (Part 1)
Demonology 101 (Part 2)
Demonology 101 (Part 1)
Christian Hedonism (Part 2)
Christian Hedonism (Part 1)
Tribute to John Piper
I'm Not Judgmental, I'm Discerning (Part 3)
I'm Not Judgmental, I'm Discerning (Part 2)
God Helps
I'm Not Judgmental, I'm Discerning (Part 1)
Stephen Hawking and the Unknown God
Evangelicalism (Part 4)
Evangelicalism (Part 3)
Evangelicalism (Part 2)
Evangelicalism (Part 1)
Why is God so Hidden?
How Long Should Your Doctrinal Statement Be? (Part 3)
How Long Should Your Doctrinal Statement Be? (Part 2)
How Long Should Your Doctrinal Statement Be? (Part 1)
Women in Ministry (Part 6)
Women in Ministry (Part 5)
Spring 2010 Ministry Update
Showing Grace to Others
Women in Ministry (Part 4)
Special Session – Suffering
Women in Ministry (Part 3)
Women in Ministry (Part 2)
Women in Ministry (Part 1)
2009
Theological Narcissism
Medicating Pain 1
God Sightings Part 3
God Sightings Part 2
God Sightings Part 1
The State of the Soul after Death
What is God
2008
God's View of President Barak Obama – Part 2
God's View of President Barak Obama – Part 1
The Destiny of the Unevangelized Part 2
The Destiny of the Unevangelized Part 1
Top Ten Reasons NOT to be a Christian – Because God will make me healthy and wealthy
Top Ten Reasons NOT to be a Christian – Because Christianity will make me happy
The Problem of Evil, Suffering, and Pain – Special Program
Problem Passages (Part 4): The Unpardonable Sin
Top Ten Reasons Not to be a Christian (Part 2): Because Mom and Dad Are Christian
Top Ten Reasons Not to be a Christian (Part 1): Because the Bible Says it is True
Problem Passages 3: Was Christ ignorant of the time of his coming?
Problem Passages in Scripture – 2: Does the Bible Condone Slavery and Polygamy?
My Postmodern Sympathies
Problem Passages in Scripture – 1: Did God Change His Mind?
What is Orthodoxy – 3
What is Orthodoxy – 2
What is Orthodoxy – 1
Hermeneutics – 10 – Illustrations of Authorial Intent Hermeneutics
Hermeneutics – 9 – Basic Principles of Bible Interpretation
Hermeneutics – 8 – Liberal Interpretation
First Things Blogcast – My Sister's Suicide and God's Sovereignty
2007
Hermeneutics – 7 – History of Interpretation through the Reformation
Hermeneutics – 6 – Pesher, Newspaper Eschatology, and Matthew's Use of the Old Testament
Hermeneutics – 5
Hermeneutics – 4
Hermeneutics – 3
Hermeneutics – 2
Hermeneutics – 1
Catholic-Protestant Issues 6
Catholic-Protestant Issues 5
Catholic-Protestant Issues 4
Catholic-Protestant Issues 3
Catholic-Protestant Issues 2
Catholic-Protestant Issues 1
Listener Questions 5
Listener Questions 4
Listener Questions 3
Listener Questions 2
Listener Questions 1
Dr. Francis Beckwith
Emerging Church Part 7
Emerging Church Part 6
Emerging Church Part 5
Emerging Church Part 4
Emerging Church Part 3
Emerging Church Part 2
Emerging Church Part 1
Trinitarianism Part 11
Trinitarianism Part 10
Trinitarianism Part 9
Trinitarianism Part 8
Trinitarianism Part 7
Trinitarianism Part 6
Trinitarianism Part 5
Trinitarianism Part 4
Trinitarianism Part 3
2006
Trinitarianism Part 2
Trinitarianism Part 1
Biblical Inerrancy Part 6
Biblical Inerrancy Part 5
Biblical Inerrancy Part 4
Biblical Inerrancy Part 3
Biblical Inerrancy Part 2
Biblical Inerrancy Part 1
Destiny of the Unevangelized Part 2
Destiny of the Unevangelized Part 1
Sources of Truth Part 9
Unity and Diversity
Sources of Truth Part 8
Sources of Truth Part 7
Sources of Truth Part 6
Sources of Truth Part 5
Sources of Truth Part 4
Sources of Truth Part 3
Sources of Truth Part 2
Sources of Truth Part 1
Denominations Part 2 of 2
Denominations Part 1 of 2
Fundamentalists & Evangelicals Part 2 of 2
Fundamentalists & Evangelicals Part 1 of 2